Defined by our history, Driven by our future
Celebrating over 100 years, Whitlock is a reflection of the generations of families who have stood here before and of those who continue its legacy today. From humble beginnings, Whitlock has stood the test of time and is committed to honouring our heritage while looking to the future to continually provide our members with an experience they are proud to be a part of.
Charles & Albert Murray
Brothers Charles (1882-1938) and Albert (1887-1974) Murray learned the intricacies of the game of golf, instruction and club making while apprenticing under master teacher and so-called "Dean of Canadian Professional Golfers," George Cumming, of Toronto Golf Club.
Making their way to Montreal in 1903, Charles and Albert would each go on to extremely successful careers, both as esteemed club professionals and highly decorated competitive golfers: between them, they hold four Canadian Open Championships (Charles in 1906 and 1911; Albert in 1908 and 1913) and twelve Quebec Open Championships (Charles an incredible ten times between 1909 and 1924; Albert in 1910 and 1930).
Engaged by the forefathers of Whitlock in the Fall of 1912 to survey and select the most suitable site on which to build a golf course, Charles and Albert Murray would go on to design and lead construction of the original 9 holes of Whitlock Golf Club, which saw its inaugural tee shot just eight months later on the 24th of May, 1913, to the surprise and delight of many.
Members of both the Quebec and Canadian Golf Halls of Fame, Charles and Albert Murray laid the foundations of Whitlock's golf course. Together, the brothers also completed the layouts of Kanawaki and Montreal Municipal (Yellow), and modifications to Royal Montreal (Dixie) in anticipation of the 1926 Canadian Open, while Albert's record comprises 33 designs and 34 remodels, including Country Club of Montreal, Laval-sur-le-Lac, Royal Quebec (Kent), Val-Morin, Malone and Massena.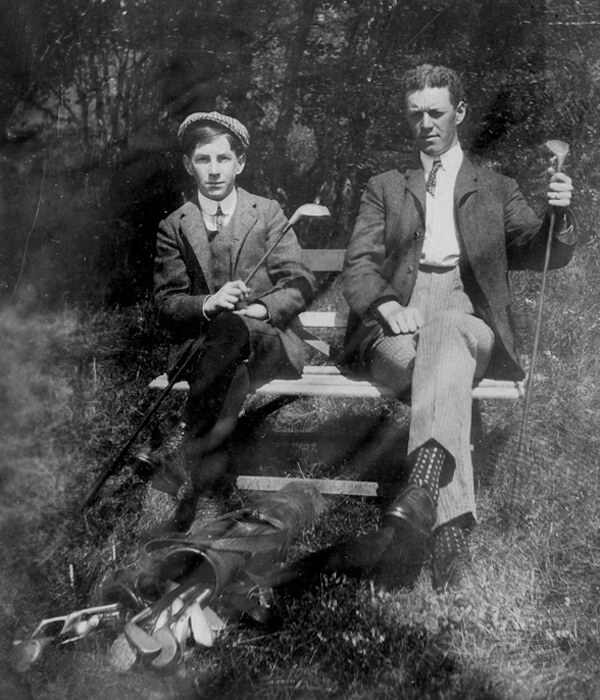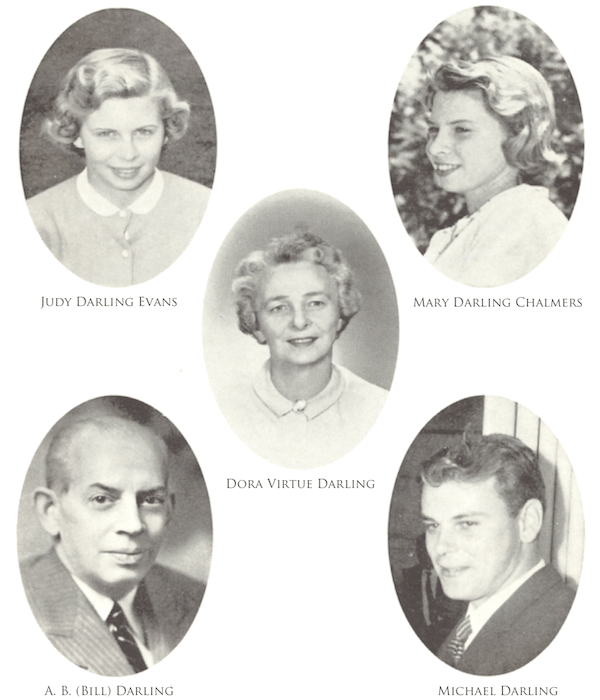 The Darlings of Whitlock
The Darling Dynasty began with Arthur J. Darling, one of Whitlock's founders and first Club President. Though he and his wife, Ellen, would never figure prominently for their golf prowess, their eldest son, A.B. (Bill) Darling won eleven Whitlock Club Championships and held the Whitlock course record in his day.
Bill married another champion golfer in Dora (Virtue) Darling: Whitlock Club Champion ten times, and four-time Quebec Amateur Champion, Dora's crowning victory came in the 1936 Canadian Open Championship.
Learning the game from a young age as neighbours adjacent Whitlock, Bill and Dora saw to it that their children got an early start to the game and set aside a chip & putt practice area in the garden of their family home, located in the shadows of the golf course.
Bill and Dora's eldest child, Judy (Darling) Evans would go on to a Hall of Fame career beginning with her first of three Quebec Junior Championships at age fifteen, a Canadian Junior Amateur Championship, six Quebec Amateur Championships and back-to-back Canadian Open Championships in 1960 & 1961.
Mary (Darling) Chalmers is a three-time Quebec Junior Champion and seven-time Whitlock Club Champion, and won the 1979 Quebec Four-Ball Championship alongside her sister, Judy. Michael Darling, the son of Bill's brother, Ted, is a four-time Quebec Junior Champion and four-time Whitlock Club Champion.
For their many illustrious achievements in golf and for their integral contributions towards Whitlock's inception and development, it is plain to see why they are—unequivocally—the Darlings of Whitlock.
Certified Audubon Cooperative Sanctuary
Whitlock boasts a long and proud history of environmental conservancy, dating back as far as 1930, when a committee was formed to take the necessary first steps towards becoming a recognized bird sanctuary in 1932.
In 1991, Whitlock formed an Environmental Committee to study its use of pesticides and herbicides, and began to work with the town of Hudson to carefully monitor this use under controlled conditions. Taking early initiative to appreciate its role within the environment, Whitlock is deeply committed to exploring alternative golf course maintenance practices and improving efficiencies in the interest of reducing its ecological impact and preserving wildlife habitats.
This initiative allowed Whitlock to achieve Certified Audubon Cooperative Sanctuary status in 1999. One of just five golf courses in Quebec to be so recognized at the time (and only nine today), Whitlock owes distinct gratitude to Susan Jacobsen, who served as Environmental Committee Chairperson for much of the 90's. Working closely with the grounds crew, Susan was instrumental in establishing many of the flowerbeds that grace the course and in planting native wildflowers in 'out of play' areas, and her involvement in the renovation of water hazards on holes 1 and 9 South were pivotal in the club achieving Audubon certification in the Water Quality and Water Conservation stages.
Actively engaged in tree planting, preservation and rehabilitation programs, Whitlock doubled down on its environmental commitment by giving particular consideration to protecting habitats and ecologically sensitive areas with the recent development of the West course and surrounding residential development.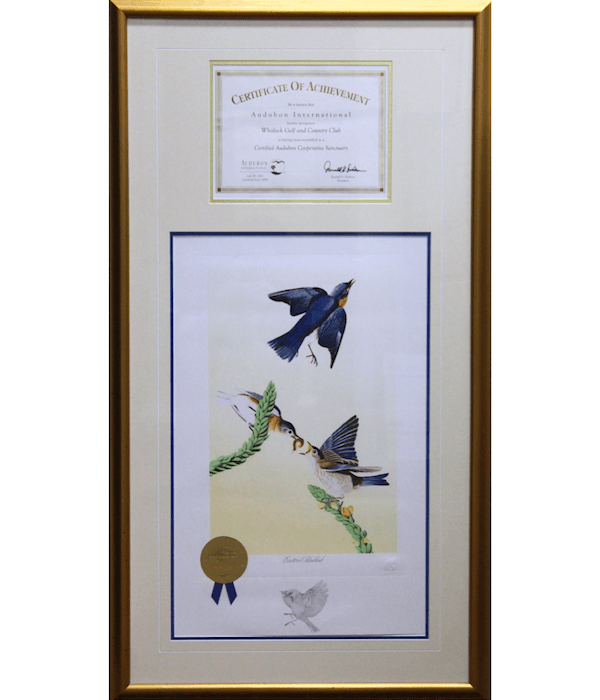 Whitlock Golf & Country Club - Recognized for Environmental Excellence by Audubon International (November 2022)
Hudson, Quebec. Whitlock Golf & Country Club is proud to announce that it has been recognized for environmental excellence for accomplishments in sustainable natural resource management and environmental stewardship and has retained its designation as a "Certified Audubon Cooperative Sanctuary" through the Audubon Cooperative Sanctuary Program for Golf Courses.
First certified in 1999, Whitlock has retained the title of "ACSP for Golf" for 23 continuous years and is one of only ten golf courses in Quebec and 73 in Canada so qualified.
In its news release announcing Whitlock's recertification, Kristine Kane, CEO at Audubon International noted that Whitlock GCC "…has shown a strong commitment to its environmental program. They are to be commended for their efforts to provide a sanctuary for wildlife on the golf course property."
To achieve certification, a golf course must maintain a high degree of environmental quality in a number of areas, including: Environmental Planning, Wildlife and Habitat Management, Outreach and Education, Chemical Use Reduction and Safety, Water Conservation, and Water Quality Management.
Environment Director Paul Patterson, says "We owe a great deal to the outstanding contribution made by the Greens' Committee and Groundskeeping Team in achieving recertification".
Whitlock enjoys a close association with Hudson's Le Nichoir Wild Bird Conservation Centre and its annual 'Taste of Hudson' fundraising event, through Wendy Dollinger, Le Nichoir's President, and Susan Wylie, a wildlife biologist and Director of Operations.
Whitlock Golf & Country Club offers a spectacular and well-groomed 27-hole golf course, an active curling program in winter and excellent cuisine in the elegant and welcoming clubhouse throughout the year.